If you have a VPN (Virtual Private Network) connection set up or configured on your Windows 11 or Windows 10 computer, and you notice that you unable to send emails while connected to VPNthis article is intended to help you with quick fixes to fix this issue.
If you're connected to a VPN and using an email client such as Microsoft Outlook, you may experience an issue where your emails:
Cannot be sent, but can be received
Cannot be received, but can be sent
Cannot be sent or received
You are most likely to encounter this problem because SMTP (Send Mail Transfer Protocol) is blocked by VPN on your Windows PC. SMTP is blocked while on VPN due to spam. Standard SMTP port 25 accepts email from other mail servers to its "internal" mailboxes without authentication and is therefore susceptible to spam. Port 25 is used by MTA to MTA (mail server to mail server) communication and can be used for client to server communication, but it is not currently the most recommended.
Unable to send email when connected to VPN
If you unable to send email while connected to VPN on your Windows 11/10 PC, you can try our recommended solutions below in no particular order to fix the problem on your device.
Restart your email client
Allow local network access
Block your email client from connecting to the VPN
Disable CyberSec feature
Switch to another VPN server
Change outgoing and incoming mail ports of mail client
Temporarily disable your VPN
Use another VPN software
Use another email client
Use a webmail provider
Whitelist your outgoing email
Contact your VPN provider
Let's take a look at the description of the process involved regarding each of the listed solutions.
As a workaround, you can send/receive your emails from a web browser. However, if you are looking for a standard solution, you can move on to the solutions below. Keep in mind that some of the steps involved in the solutions depend on the VPN software you have installed on your system. Nevertheless, the features and steps are generally similar between VPN clients.
1]Restart your email client
If you are using an email client and you cannot send emails while connected to a VPN server, as a quick fix to the problem you can simply close your email client and restart it. If this action was not helpful, you can try the next solution.
2]Allow access to local network
Depending on your VPN software, this solution requires you to allow local network access on your Windows 11/10 PC through the VPN software settings.
Proceed as follows:
Go to ≡ > Options/Preferences > General.
Check the box for Allow access to local network devices (such as printers or file servers) option.
Exit the settings page.
3]Prevent your email client from connecting to the VPN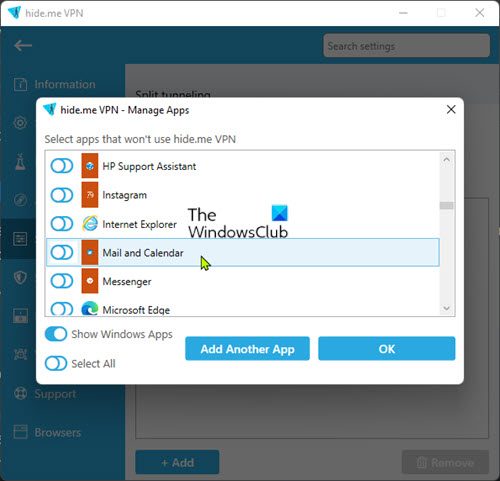 Instead of disabling the VPN entirely, this solution requires you to prevent your email client from connecting to the VPN through the VPN software settings.
Proceed as follows:
Go to ≡ > Options/Preferences > General > Divided tunnel.
To note: The split tunneling feature is not available on macOS 11 and above.
Click on Settings > Do not allow selected apps to use VPN.
Click it (+) plus sign.
Select your messaging app.
Click on Okay.
Exit the settings page.
4]Disable CyberSec feature
This solution requires you to disable the CyberSec feature in the VPN app settings. CyberSec is a feature that protects you from advertisements, insecure connections, and malicious sites. CyberSec uses popular lists of blocked websites to identify potential malware threats to your browsing sessions. It analyzes the web addresses you enter against these lists – if there is a match, access to the website is blocked before you connect to it. This way, you won't open any website known to host malware and infected files.
With just a click of a button, you can enable/disable this feature from the Settings menu.
5]Switch to another VPN server
This solution requires you to switch to another VPN server. Your email provider may block access to its email services from known VPN server IP addresses. So, switching to another VPN server can help solve the problem in question.
6]Change outgoing and incoming mail ports of mail client
This solution requires you to check the outgoing and incoming settings of your email client. You need to reconfigure your incoming and outgoing mail settings. You should not use port 25 (the default SMTP port used by servers to communicate with each other) to send mail. Instead, use port 587 and STARTTLS to send/forward emails over VPN, as this helps prevent outbound spam.
It is recommended to use encrypted traffic, to protect your privacy, data integrity, and also for security reasons. Below is the list of default ports used to send and receive email, encrypted and unencrypted:
IMAP uses port 143, SSL/TLS encrypted IMAP uses port 993.
POP uses port 110, SSL/TLS encrypted POP uses port 995.
SMTP uses port 25, SSL/TLS encrypted SMTP uses port 465 Where 587.
7]Temporarily disable your VPN
When you enable VPN on your Windows 11/10 device, you always establish a point-to-point (tunnel) connection between your device and a VPN server. With an active VPN connection, your device establishes an encrypted connection with the VPN server, which in turn forwards all data to the website's servers. Therefore, your device is excluded from the local network during this time and you cannot connect to the network printer/network devices or an email server. This prevents your email from sending or receiving emails.
You can try this solution if you don't just want to block your email client from connecting to the VPN. In this case, to solve the problem at hand, you can temporarily disable/disconnect your VPN. After sending or receiving the emails you need, you can re-enable your VPN.
8]Use another VPN software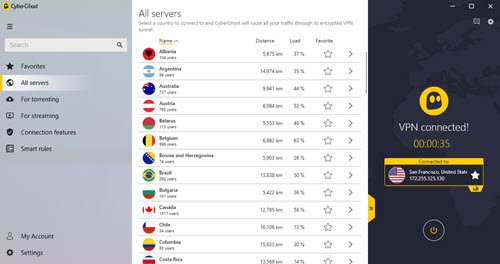 Especially when it comes to SMTP issues related to VPN connections, there are VPN software on the market that give you what you pay for when it comes to certain features and functionality.
Private Internet Access is one of those well-known VPN software that does not interfere with your email access due to SMTP issues. With this VPN client, you can also access geo-restricted content from around the world, while protecting your IP address from any third party collecting data online.
9]Use another email client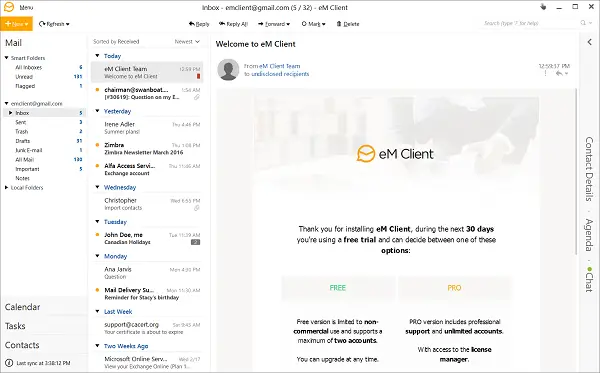 Many new email clients do not use TCP port 25 for their SMTP services. If your VPN is still blocking your SMTP, make sure your email client is updated to a newer version. Or, you can switch to another email client that uses much more secure TCP ports.
Note that some VPN providers do not block SMTP emails over TCP 25. So if you regularly use your email client, you may consider switching your VPN service to an SMTP-enabled VPN.
10]Use a webmail provider
Surveys reveal that the most affected users are personalized webmail (example; [email protected]) users. Using standard webmail provides an SMTP server on SSL TCP port 465 and many VPNs do not block this port because it is secure. Webmail providers (like Gmail or Yahoo Mail) are not blocked by multiple VPN service providers and offer excellent anti-spam and security features for their huge user base.
11]Whitelist your outgoing email
If your network and firewall aren't blocking mail ports – SMTP (25), POP3 (110 and 995) and IMAP (143 and 993), chances are your VPN provider is blocking your mail client from sending or receive emails on your Windows 11/10 PC for security reasons. VPN providers want to prevent malicious users from using their services and IP addresses to send spam and other types of unsolicited email, as such activities typically result in the IP addresses of users being blacklisted. VPN providers.
To whitelist your outgoing emails, you will need to contact your VPN provider to get the information they need to whitelist your outgoing emails. You can get this information by checking your email account settings in your respective email app.
12]Contact your VPN provider
If you have exhausted all possible options but the highlighted issue is still not resolved, you can contact your VPN provider for further assistance.
I hope you find this article informative and useful enough!
Why doesn't email work with VPN?
If email is not working with VPN on your Windows 11/10 PC, your network and firewall may be blocking email ports – SMTP (25), POP3 (110 and 995) and IMAP (143 and 993). If not, chances are your VPN is limiting your ability to send email through Outlook, Thunderbird, Apple Mail, etc. and the reason is simple: security.
Does VPN affect emails?
Yes, using a VPN can affect your ability to access, send, or receive email. This is because a VPN encrypts your internet traffic and disguises your real Internet Protocol (IP) address by giving you a different IP address.
Why doesn't Outlook work over VPN?
There can be a number of reasons why Outlook is not working over VPN on your system. For general troubleshooting, you can check your internet connection. If your internet connection is not stable enough, this could be the reason why Outlook won't connect through VPN. This problem could be because your router or your laptop's Wi-Fi is too slow. To test this quickly, you can restart your router or switch to wired (ethernet) mode.
Why are my outgoing emails blocked?
If you get the Your message could not be delivered because you were not recognized as a valid sender notification message, this is probably because your email address is suspected of sending spam and it is no longer authorized to send an email.