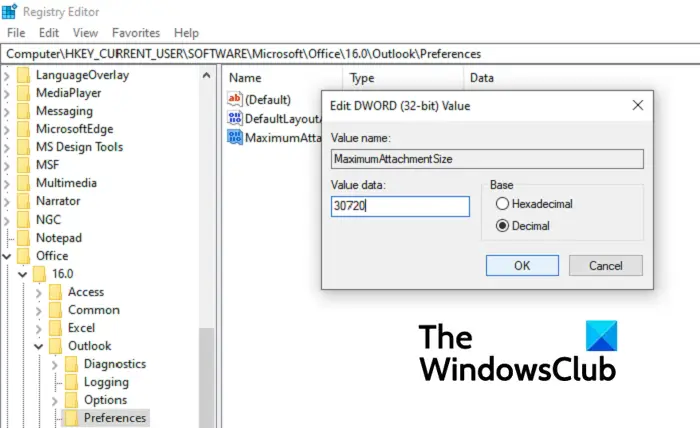 How to Increase Attachment Size Limit in Outlook
When using Outlook, users get a 20MB limit on the file size of their attachment, that is, a user can only send files with a maximum size of 20MB in a single email. This size limit has been observed even with the latest versions of Outlook.
The attachment size exceeds the allowable limit
Whenever you try to attach a file that exceeds this limit, Outlook reports an error stating: "The attachment size exceeds the allowable limit. "This can be a bit annoying for those who frequently have to send relatively large file sizes. Fortunately for those, there is a way to play with it. In this article, we'll show how you can exceed this file size limit. maximum in Outlook.
Sometimes when you try to upload a file larger than the maximum limit on Outlook, a dialog box will appear advising you to upload the file to a shared location and share its link, like Google Drive. While this is a doable solution, it is not the fastest and can be riddled with interruptions.
How to increase attachment size limit in Outlook?
The process is very simple and should only take a few minutes. We will make this change using the Windows Registry Editor. As always, it is advisable to back up your current registry configurations, as an error in the process can cause irreversible damage to your system. Let's start:
Open the Run dialog box and in the blank space type 'Regedit.exe'
Then, depending on the version of Outlook you are using on your PC, navigate to the appropriate key. For Outlook 2019 and Office 365 it is:
HKEY_CURRENT_USERSoftwareMicrosoftOffice16.0OutlookPreferences
Once you are there, right click in the empty area and create a new key (32 bit DWORD value) with the name of Maximum attachment size.
It is possible that a key with this name already exists on this page, in which case you can proceed to the next step
Now right click on this key and select Edit
Edit the value data to adjust the maximum attachment size you want for your files on Outlook. Keep the base decimal and provide a number based on kilobytes. 1MB = 1024KB, so calculate accordingly.
Here I changed the maximum file size to 30MB. If you want to turn off the limit completely, just keep the data value of 0.
You can also make the above changes to your registry without actually using the Registry Editor. Using the command prompt, you can run the script below and make the changes you want.
For example, if you are using Outlook from Office 365 and want to increase the file size to 40MB, run the following command line.
reg add HKEY_CURRENT_USERSoftwareMicrosoftOffice16.0OutlookPreferences /v "MaximumAttachmentSize" /t REG_DWORD /d 40960 /f

reg add HKEY_CURRENT_USERSoftwareMicrosoftOffice16.0OutlookProfilesOutlookPreferences /v "MaximumAttachmentSize" /t REG_DWORD /d 40960 /f
The aforementioned command will create the desired registry key and set its bit value accordingly. Now restart your PC and try to upload a file to Outlook that is smaller than the new threshold you set.
Related: Cannot attach files to an email in Outlook.com or the desktop app.
How to compress a file to send it by e-mail?
Another way to approach the problem of files that are too large for mail is to be able to compress them. This too is a fairly basic thing to do. As long as the recipient of the file has a tool to decompress your file, the goal is pretty much solved. Here is what you need to do:
Open File Explorer and select the file (s) you want to compress
Once selected, right click on it, and in the list of options, hover your mouse over "Send to"
From the resulting drop-down list, select Compressed (Zipped) Folder
Hope this article has been helpful to you!